Utilizing a Powerful GPU Solution with Integrated Cellular Capabilities for 3D Vision
12/13/2020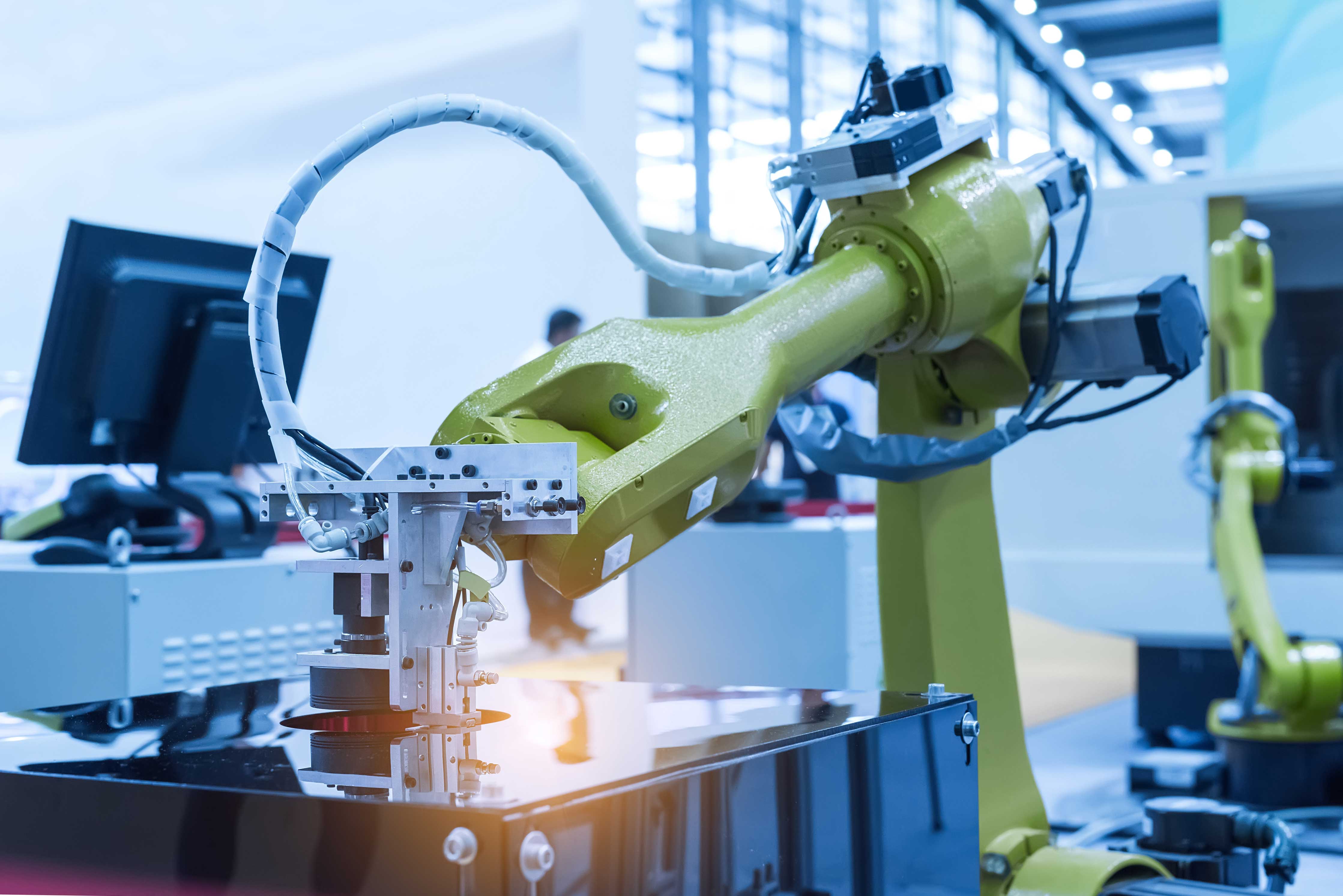 Advantech Multifunctional GPU Solutions Improve 3D Vision for Productivity and Growth
Robots equipped with the latest in machine vision technology are opening doors for more advanced automation. Machine vision ultimately allows a robot to sense the world, process the information, and adapt to varying conditions.
2D vision has been around for a while and allows robots to detect movement, localize parts, and perform additional functions, but their scope is limited. 2D may be fine for the needs of basic inspection in controlled environments, but 3D vision allows for more precision and flexibility in manufacturing applications.
In the past, 3D vision in robots was mostly reserved for industries dealing with bigger objects on the manufacturing floor, such as the automotive industry. Now, smaller robots—also known as collaborative robots—are growing in popularity in smaller and medium enterprises. One of the challenges smaller robots present, however, is the need for more accurate 3D vision for successful automated material handling. Smaller robots are handling smaller objects—detecting, picking, placing, etc.—calling for more accurate vision.
When 3D vision accuracy needs are met, these smaller robots can help increase productivity and increase growth in processes and applications. These benefits present in numerous ways, including: increasing speed and reliability for existing applications; enabling new, more advanced applications; and improving the ease of deployment, operations, and overall flexibility to operate in less structured environments.
Specific application needs will determine the best type of 3D vision solution and robotic solution. These application needs can be separated into specifications and conditions. Specifications include what needs to be accomplished to complete the application and/or process successfully, such as: point precision, local planarity precision, global planarity and accuracy, and dimension precision and trueness. Conditions include any elements in the work area that could have an effect on the machine vision accuracy: working distance, ambient temperature, ambient light, imager gain, projector brightness, etc.
Once the conditions and specifications are determined, you need to select the right machine vision technology to maintain accurate 3D vision. Powerful connectivity also can't be overlooked in order to transfer the data or access it remotely. Edge AI Inference Computers are vital hardware platforms for these multiple edge computing applications.
To achieve high standards in production, efficiency, and safety, collaborative robots need to—in essence—"see." Highly-acute vision systems are instrumental to meet these standards. Industrial Edge compute systems, such as Advantech's line of Modular Industrial Computers, enable machine vision solutions to work at the highest level.
The Advantech MIC-7 series of modular industrial PCs (IPCs) include compact, modular systems that are an ideal solution for machine vision applications. The MIC-7000 supports innovative i-Module expansions for flexibility to meet diverse application requirements.
For example, the MIC-75G30 GPU i-Module add-on offers support for two dual-slot GPUs, which means you get twice the image processing power for machine vision applications when combined with the MIC-770 as the base IPC. It's ideal for Edge AI computing and features a compact size with exceptional performance, system stability, and reliability.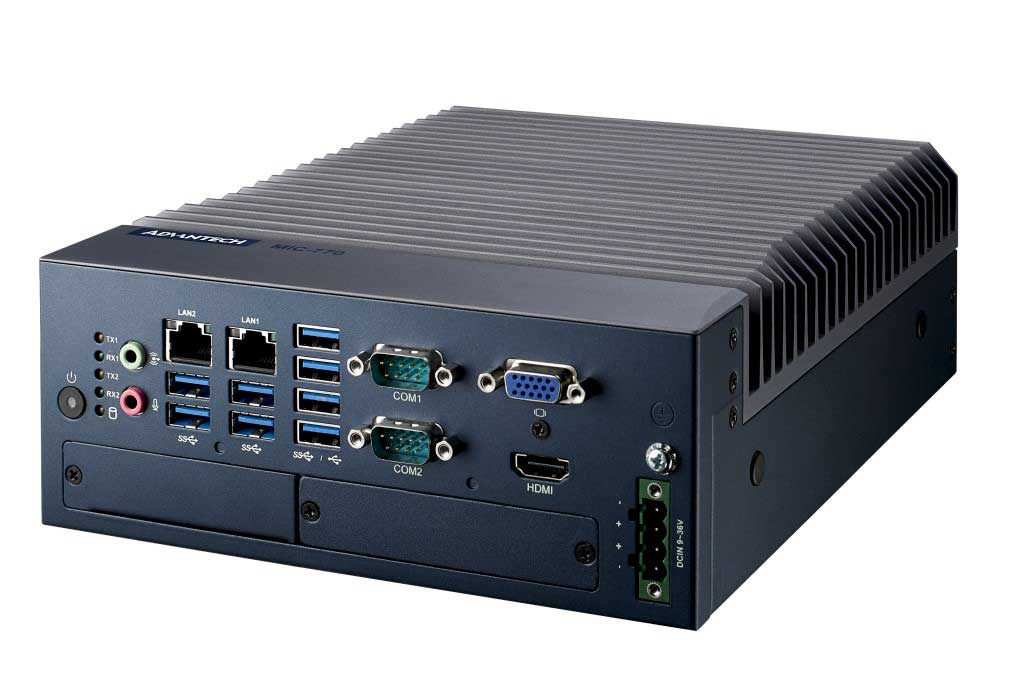 Certified Cellular Connectivity
The powerful MIC-7000 IPC series can also accommodate Advantech iDOOR modules. With the C-PCM-24S24G-4AV-1 LTE iDOOR add-on, the solution can support LTE for wireless connections. Utilizing a cellular network provides a flexible method for updating inference models, as well as out of band management for remote management, reducing deployment and support costs.
When choosing cellular LTE connectivity, you don't need to worry about having an existing fiber infrastructure, and it's more cost effective to use than adding one. LTE connections using Wi-Fi are also more reliable than wired connections. Additionally, the C-PCM-24S24G-4AV-1 LTE iDOOR connectivity module is certified for both AT&T and Verizon networks, saving users' time.
Full Product Configuration
GPU solution with DUAL NVIDIA 250W, 2.75-slot width/331mm length GPU cards for new video AI application
LTE CAT 4 connection, certified with AT&T and Verizon

Triple 24VDC power inputs, powering system and GPU simultaneously with one PSU

System fan embedded for thermal management ensuring the GPU works at top performance

Dual front accessible storage bay for easy swap of drives

Intelligent power status indicators for system and GPU

Ruggedized design to support 1 Grms vibration with dedicated GPU bracket and adjustable height card holders

Compact size design, suitable for edge AI deployment

Dimension (WxHxD): 280x192x385mm
What's Different about the MIC-75G30 i-Module for Advantech Modular IPCs
The MIC-75G30 has an industrial, form-factor design with a compact size while also providing top-of-the-line power.
Wider and longer chassis design to fit TRIPLE fans/2.75-slot width high end GPU
The industrial design of the MIC-75G30 has a strong GPU retainer bar with height-adjustable GPU card holder design. Customized GPU brackets help to firmly affix the GPU card without shaking. Additionally, tailor-made mounting brackets securely fix the whole system for strong stability
Embedded system PWM SMART FAN adjusts fan RPM according to the thermal status via intelligent thermal sensor, enabling excellent thermal management for dual GPU cards while minimizing system noise
15x screws and chassis standoff ensure reliability during operation under 1Grms vibration to compensate for the dual GPU card weight and stress to PCBA
Dual 24VDC in, provides independent power to dual GPU cards via 4x 6-pin connector, plus 1x 4-pin connector for frame grabber card, along with up to 80W power provided from MIC-7 system via golden fingers, ensuring abundant power for large power consumption requirement for add-on cards in MIC-75G30
Intelligent power indicator LED to show GPU cards' power status
Dual front-accessible removable storage bays for large amounts of data storage and easy swap (support up to 15mm 2.5" HDD)
Able to support Wi-Fi and LTE for wireless connections with C-PCM-24S24G-4AV-1 LTE iDOOR, which is certified for AT&T and Verizon networks